If you are a standard white collar corporate employee, your regular day starts with getting ready to go to office and spending the next 7 to 9 hours of your time there. Your 'normal' office routine also involves – doing your usual work, setting up your days schedule, going through your project management tool, talking to your colleagues during long or short breaks, attending meetings or other such things.
All this was a simple routine that you would do every day. Then came COVID-19. The epidemic turned everything upside down. Our regular 'normal' life is not so normal anymore and now we are already talking about 'new normal'. Now the white collar workers are forced to work from home on a regular basis, attend meetings through different online meeting platforms from the confinement of their homes.
The mighty Coronavirus has disrupted our lives and have made us rethink the entire structure of the age old systems we used to follow where our corporate work culture was concerned. It will take us months, if not years to reframe our lives back to normalcy, if ever.
With stay-at-home orders everywhere that has been prompted by COVID-19, leaders are facing a number of challenges – from project managers to HRs. A recent research said that almost 71% of the employers are finding it difficult to adapt to this remote work system. Human Resource Departments of different companies are seeking desperate solutions to adjust to this new concept of work from home for most of their employees.
When experts predicted that the year 2020 to be the year of 'remote work', no one had ever thought that it will turn out to be the year of experimenting with the concept of 'remote access working'. During this global crisis, companies are not realizing that what matters is that the work needs to be done, things must continue. The business continuity plan must not get affected. Swanky offices, posh cabins don't matter anymore. With modern day technology, employees can deliver their work, equally effectively, from their homes and get things done on time.
Obviously there has been humongous pressure and glitches were numerous. But to continue with business as-usual, you must adapt and refocus on the new issues. A recent survey done on over 400 HR managers and other employees has given a distinctive report:
The sudden shift in the way we work has brought forward a number of challenges where remote access work is concerned. Companies need to understand how to tackle them in the grassroots level and ensure they are handled well.
From the company's point of view few of the biggest concerns were: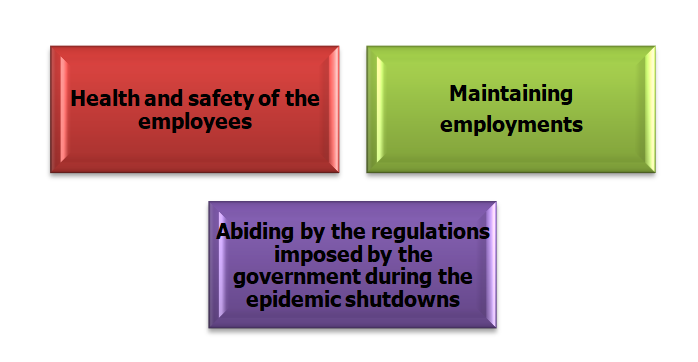 However, from the employee's point of view the challenges were completely different:
So how to fix this entire turmoil and ensure that all employees get a balanced work process? Employees feel that simply providing hardware, internet facilities and other project management tools are not enough. Organizations need to walk that extra mile that the employees are now yearning.
Cited below are few important pointers that companies can use to ensure they manage their employees better:
Communication system
One of the most important aspects of work process is clear, transparent communication on a regular basis between employees. If employees do not communicate with each other it will never result in successful project completions. The next level comes between company and employees. That is also important.
Employees working from home might often feel disconnected from their companies and here effective communication is imperative. Communication should always be:
Both ways
Transparent
Regular
Lucid
The C-level executives might communicate by:
Sending out emails every week
Sharing videos with concrete messages
Hosting webinars
Posting articles on company blogs
Going LIVE on social networking platforms
This way the employees will feel the company is in touch with them on realtime.
Managers should hold huddle sessions online with concerned project members on a regular basis, talk one-on-one whenever required and host open discussion forums as well. Open communication should be made between leaders and team members on:
Business process
Decision making
Project objectives
Company goals
Team prospects
Team performance
Each employee should be give equal opportunity to communicate regarding any issue they are facing. They should be able to access skip-level meetings through chatbots or telecalls. Sometimes email communication is not the best solution.
Managers should also eradicate any conflicting messages that an employee might get. It might be a rumor on staff lay-offs, reopening of office workspace, or even some local news. Leaders should ensure that their team members are having the correct information all the time.
Project management system
Companies should have in place a proper project management platform where all the projects should be displayed. Concerned employees should be given required access so that there is a continuation of smooth business process. This way they will understand the project requirements as well as the status.
Companies should also insist employees on maintaining digital personal task management tools that will help them balance their work and home chores better and make them more organized. Try our eisedo, a simple online to-do list management platform where you can add your daily tasks and the tool will automatically prioritize your chores as per the timeline set by you.
Staying at home means you need to juggle between personal chores at home and professional work. Instead of creating long task lists, employees can get their own personal to-do list tool and add each day's work as and when required. They will get on-time reminders of the tasks due and will stay updated accordingly.
Health awareness
An employee's level of motivation also depends on the state of his physical and mental health. The Coronavirus epidemic has ensured that people give utmost importance to their health. Isolation from community and staying indoors for long periods of time often creates lot of negativity. People have to let go of a number of social activities that they were so attached to or was part of their usual routine.
Companies can create health awareness sessions, therapy sessions or even wellness applications for their employees that they can attend online from their homes. Starbucks had announced therapy sessions for their employees to enhance mental health of their employees.
Employees' Struggles
When an employee is working from home, he may face a number of challenges from his end: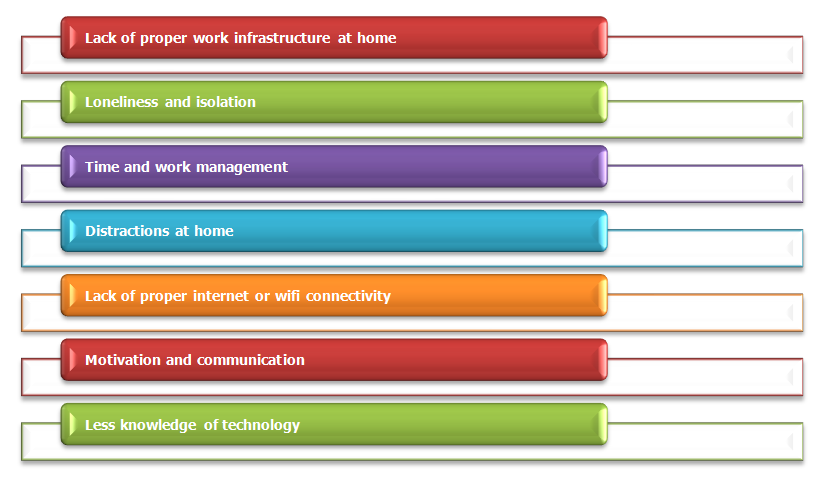 Organizations can help their employees on many of these issues by providing support in required scenarios. Many companies sent their employees computer tables and push-back chairs to create a workspace for their employees at home. Companies are also trying their best to handle other situations as best they can so that the business workflow is not hampered and employees are also taken well cared for.
As managers, you should ensure that your team members are not feeling isolated from the group, or facing technical glitches. Talk to your team subordinates if you notice regular disturbance at their homes while they are at work or if they are facing work and personal life balance issues.
Sometime back Indra Nooyi, PepsiCo CEO stated that, "Whatever anybody says or does, assume positive intent. You will be amazed at how your whole approach to a person or problem becomes very different." This simple yet power-packed statement says it all. Employees have complained having regular panic or anxiety attacks, depression, or even self-loathing. Talk to your team mates to sort things out as smoothly as possible. Having a positive approach in this crisis period is what will hold everyone together. Both employers and employees must keep in mind that now remote access work will be the future. Remote leadership, remote teams, remote management and remote employees – these are the terms that we will have to live with now. Are you ready to enter the world of remote workspace? It is not rocket science but it will work out soon.