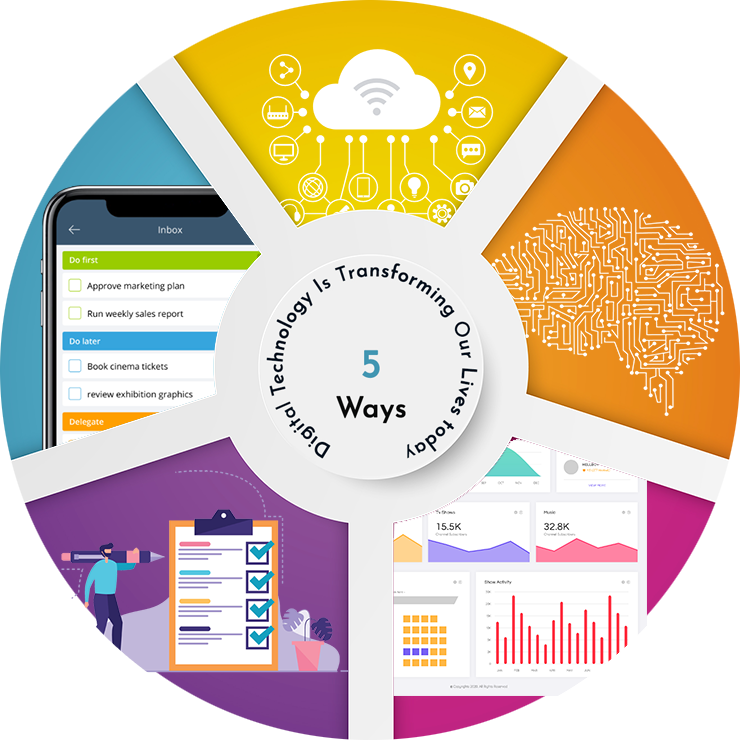 If we stop for a minute to look around ourselves today, you will realize how digital technology has taken over our lives. Few of the remarkable resources have been created by technology and they have enhanced our daily living. Even though many of us have become addicted to digital technology, but there is no denying that it has benefitted us in many ways than we can count.
As we traverse through the final quarter of 2020, you will notice a few distinctive changes that have impacted companies, teams, work culture and its approach. Times are drastically changing. It is imperative that you must stay at par with the changing times and self-adjust yourself. Most importantly, are you ready for the changes? And how are you adapting the changes?
The biggest transformation has taken place in the field of:
Technology
Social life
Business environment
In the time of fast transforming dynamic digital age, every other day a new app, a new software or a new digital tool is being launched. The technology quotient is taking more and more front seat. Companies are giving more importance to an employee's ability to adapt and handle technology as per the organization's requirement. For example, if AI is the new kid in the block, how soon will you be able to use it and integrate it in your daily work process? That is what the companies are looking for.
Today, we are depending on technology for almost everything in our daily lives – personally and professionally. In the current Information Age we cannot deny that things around us are mostly technology dependent and sometimes dominated and it has both good facets and bad as well.
Discussed below are the top 5 ways digital technology has brought in a huge wave change in our lives:

Cloud Computing
The concept of cloud computing has taken over the world by its own digital storm. Now you can store any data and information securely on cloud. Once you store the application or data on cloud you can access them through your own specific entry key from any location worldwide. Cloud computing has been offering businesses scalable computing resources that helps companies save time, money and maintenance of resources. Cloud computing is extremely secure and creates hosts of opportunities.
Considered as one of the most flamboyant technological innovation, cloud computing has increased agility and accessibility in the software and hardware development front. Moreover, when it comes to disaster and risk management, cloud computing has been the true savior since its implementation. Highly flexible, efficient and safe, cloud computing helps companies cope with issues dealing with big data, cyber-security and quality control.
If you are looking for handling functions over multiple locations and planning to opt for cloud computing and infrastructure, Secure Info offers you agile cloud solutions.
Artificial Intelligence
Since 2019, AI has taken a prominent seat. Now companies are using AI automation to optimize projects, reducing project risks and enhancing tasks. Therefore, it is always imperative to use technology that benefits your team and pumps up your technology quotient.
If said in one simple sentence, your browsers and websites know you better than any other person because of AI. With the help of algorithms built in a dynamic computing setting, AI imitates human intelligence that makes computers think like humans.
The amount of data that is generated everyday worldwide is not possible for any human mind to handle and maintain, let alone interpret and absorb. AI thinks and acts like human intelligence, and helps in complex decision making that a human mind will not be able to do otherwise.
Therefore, whether it is fraud detection or virtual customer care support, AI is handling it all end-to-end. It now helps in maintaining regular chatbots, machine-learning computing systems and voice recognition human interaction.
Get a highly effective intelligence and analytics software from Secure Info and give wings to your organization.
Data Science
One of the simplest examples of usage of data science in our daily lives is GPS for traffic commuting. Applications like Google Maps use data science to track traffic routes and suggest you route changes based on the data available. Companies like FedEx, DHL use data science technologies to enhance their logistics and navigation. This helps them immensely to increase operational efficiency.
Whether it is listening to your favorite song on your music streaming app like Spotify or watching a web series on streaming app like Netflix – data science helps to curate and customize customer data as per your browsing behavior. This also enhances viewing habits and customer data. Even the satellites deployed with weather sensors collate enormous amount of data that is used to comprehend and predict weather conditions. Data science technology is massively used for weather forecasting, tracking natural disasters and global warming.
Today data science has tapped almost all industries including entertainment, healthcare, hospitality, finance, logistics, gaming and so on.
Work Management
Technology has allowed remote work to become a commonplace. Today, video conferencing helps staff to see and chat with each other in real time, anywhere with an internet connection. Remote work has become the in-thing today where your physical location no longer matter. Many companies have also scrapped conventional offices and now operate their firms out of co-working spaces to satisfy their increasingly remote employees. The number of remote employees has risen dramatically in recent years.
There are numerous strategies that business owners and project managers are using to set measurable targets for their remote teams to achieve the results they are aiming for in terms of business growth and development. They are also opting for online project management tools. One of the most user-friendly and agile tools available today is eisedo. This app helps in:
prioritizing your tasks
setting timelines
getting notifications and reminders on time
creating and maintaining sub-projects and sub-tasks
tracking and measuring performances
assessing the deliveries
eisedo to do list will help you become more organized, punctual and productive. Task management will no longer be an issue. With eisedo you can handle your tasks effectively and become far more efficient, organized and productive.
Mobile App
With the craze of smartphones becoming a household thing, technology has taken a new leap. We are now glued to our phones and use it for almost everything. Whether it is ordering food online, gaming, checking your heart rate or even setting a simple reminder to drink water – everything is now app based. You can even book your next appointment with your doctor using an app.
Mobile apps have taken over almost everything. Now you have apps for:
Social networking
Communication
Online shopping
Food delivery
Logistics
Flights & hotels booking
Commuting
Gaming
Healthcare
Entertainment
The list is endless but these are few top ranking sectors. Most mobile apps do make our lives much easier. So now, if you have missed out on any of the episodes of your favorite daily soap, all you need to do is watch it on the streaming app. If you are single and looking for a partner in matrimony, download a matrimonial app of your choice. Now you can even transfer funds online using mobile banking apps. As long as technology is not turning you into lazybones or getting you addicted, it is fine to make most use of what the digital world is offering. Technology will continue to change us as we keep changing technology. It is a simple cycle of adapting one another. As long as it is not hampering our lives, we must make the most use of it.